Alignment Asymmetry - A Parent's Guide
E-book - Video with exercises - Online meeting
A pill of medical knowledge and experience working with young patients. Become a more informed and calmer parent without leaving home.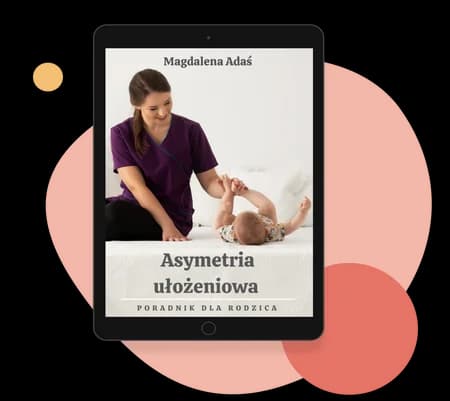 Hi!
My name is Magdalena Adaś.
I am a pediatric physiotherapist and educator.
I graduated from the Medical College of the Jagiellonian University in Krakow. Currently, I work in Cracow and Warsaw.
On a daily basis, I deal with rehabilitation of the youngest patients and supporting their parents.
I share my knowledge and experience on my blog, in online courses, e-books and webinars. I make physiotherapy accessible to everyone.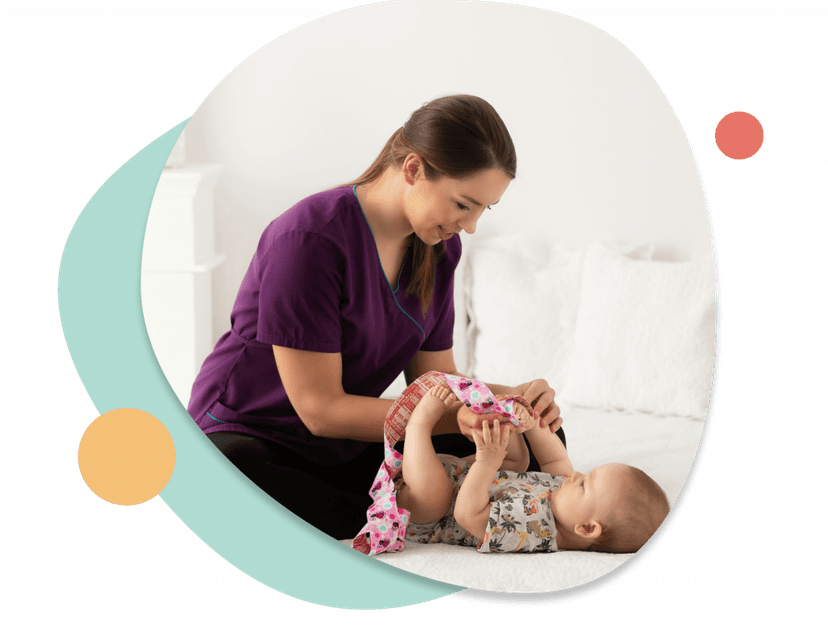 I want every parent to have access to reliable knowledge about asymmetry.
Placement asymmetry is one of the most common conditions in infants.
Parents, however, find it difficult to get verified information on this subject. Sometimes even specialists fail! I am not able to help everyone personally. However, I guarantee that the materials I have prepared are a real pill of knowledge.
How specifically can I help you?
I have prepared a set of materials on asymmetry.
GUIDE (E-BOOK) PDF
over 90 pages of practical advice
body symmetry and asymmetry
specific methods to promote normal child development
FUN EXERCISE VIDEO
more than an hour of instructional videos with exercises for asymmetry for a child in the first year of life
presentation of the exercises described in the e-book
ONLINE MEETING
individual consultation with a physiotherapist
possibility to consult additional symptoms of the child
individualized exercise selection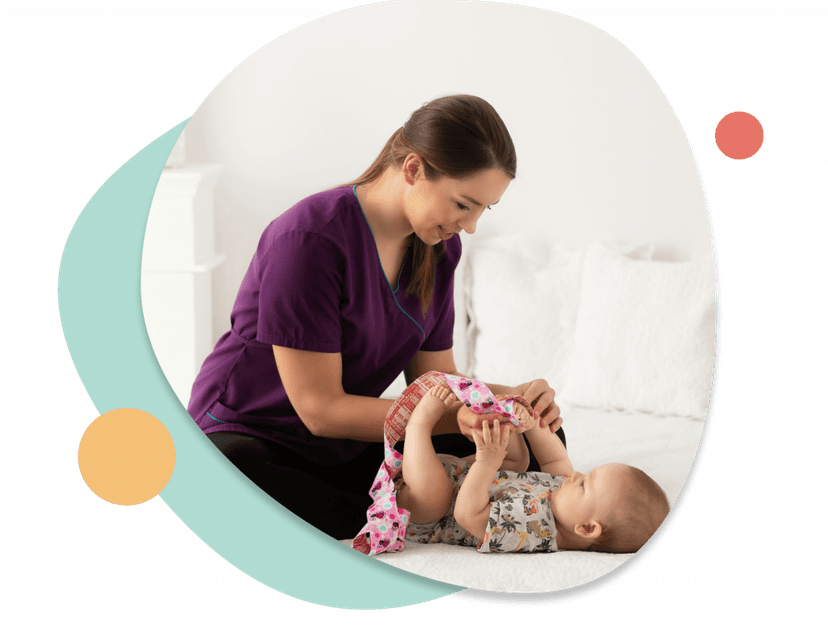 Find a product that's right for you
With unlimited access to movies, you have the chance to catch up on webinars when it's convenient for you.
What do you find in the e-book?
I am providing a table of contents for the e-book. You can check if the topics I cover are relevant to you.
Chapter 1
Body symmetry and midline
In this chapter you will learn:
what is symmetry and body centerline

why symmetry is important

what can worry the parent

what preventive exercises can be done with the child
Chapter 2
Positional asymmetry
In this chapter you will learn:
what is postural asymmetry

what causes it

and what the consequences can be

how to distinguish asymmetry from child page preferences
Chapter 3
How to recognize positional asymmetry in a child?
In this chapter you will learn:
how to recognize asymmetry in your baby month by month,

how to recognize asymmetry in different body positions,

what is head-torso asymmetry.
Chapter 4
Recommendations for postural asymmetry
In this chapter you will learn:
how to properly care for a child with asymmetry

how to engage the less active side

what is the importance has a cot, mattress and pillow
Chapter 5
Asymmetry Exercises
In this chapter, I'll show you some practical exercises to do with your child at home. In addition, in the Annex to the e-book you will find a sample exercise plan that will help you easily incorporate them into your daily routine.
Chapter 6
Untreated asymmetry
In this chapter you will learn what the consequences of untreated asymmetry can be and why it is really worth taking action right away.
What can I guarantee?
Above all, you will become a more informed and calmer parent.
You will get an answer to your concerns about asymmetry
In the materials you will find answers to real questions and concerns of parents. You will learn what to look out for at each stage of your child's development.
You will learn how to easily practice with your child in the form of play
The e-book is a treasure trove of inspiration for safe exercise. You will find suggestions in the form of games, adapted to the age of your toddler. You will especially gain by choosing the package with video.
You will reduce your level of anxiety about your child's proper development.
I will prepare you to raise a healthy toddler. You will learn what to pay attention to in your child's development and what to avoid so that your child develops properly.
Find answers to parents' most common questions
Does every child with asymmetry need rehabilitation?
Not all asymmetries require rehabilitation in the office, but exercise at home is key. In some cases, proper care of the child is enough. In the e-book you will find hints on what steps are best for your situation.
Is every baby born with asymmetry but later grows out of it?
Unfortunately, this is the most common myth about asymmetry. Asymmetry is a condition that requires proper exercise. From the e-book you will learn about the normal development of your child. You will also find tips on how to nurture your baby from birth to prevent more serious problems in the future.
Does asymmetry rehabilitation require a parent to exercise with their child?
For young children, therapy in the office and home exercises performed by the parent have the best effect. In the e-book and the video, I show simple exercises in the form of play. This way you can safely support your child's development at home.
Why can you trust me?
There are already thousands of parents with me
50 THOUS. +
Over 50,000 people each month find help on my blog. This is the most read blog on the subject!
3 000 +
Up to 3,000 people attend my live webinars.
100 000 +
Over 100,000 parents and physiotherapists belong to my community on Instagram.
Moms' opinions are the best review of my work.
Thank you for being ❤️ It is for you that I create. It is thanks to your comments that I have the strength to keep learning and then share this knowledge.
5/5
I benefited from the help of Ms. Magda, she came to us for a home visit. She observed our son during activities and play in his daily environment. She gave us valuable tips and selected exercises, so we can see progress. I highly recommend!
Paula K.
Ms. Magdą is a very warm and kind person 😉 This is especially important with young children. She explains everything well and does not 'scare' unnecessarily. i highly recommend to contact Ms. Magdalena even prophylactically.
Dorota B.
Ms. Magda professionally and with great commitment approached my daughters and the physiotherapy treatments she performed. She recommended us additional exercises and helped us effectively. Thank you very much and recommend you wholeheartedly!👍
Marta S.
Professionalism, punctuality and knowledge!!! Home visits are a convenience for moms and toddlers. In addition, good contact on fb, you can ask about everything. Mrs. Magda has a great approach to children, she educates parents both in infant care and exercises to do on their own at home. I recommend to everyone.
Sylwia Sz.
I live abroad and encountered problems with access to pediatric physiotherapy for an issue that concerned me. I was told that some children 'are like that.' I opted for an online consultation, which I'm not a fan of under normal circumstances. I got an appointment the very next day. I am very satisfied with the consultation, my doubts were dispelled. Ms. Magda showed all the techniques that were important to me, as well as exercises to improve some shortcomings that we need to work on. I heartily recommend, a lot of information given in an accessible way, and most importantly, specifics. In addition, Ms. Magda offers support in connection with the exercises we received later. 10/10!
Kasia Ś.
Let's stay in touch!
Join my channels and stay up to date with physiotherapist tips.
Facebook
I created a supportive group on FaceBook. It already connects more than 3,000 parents and physiotherapists. You can ask questions and help other moms.
YouTube
The channel features educational videos with tips on caring for and supporting the proper development of babies and children.